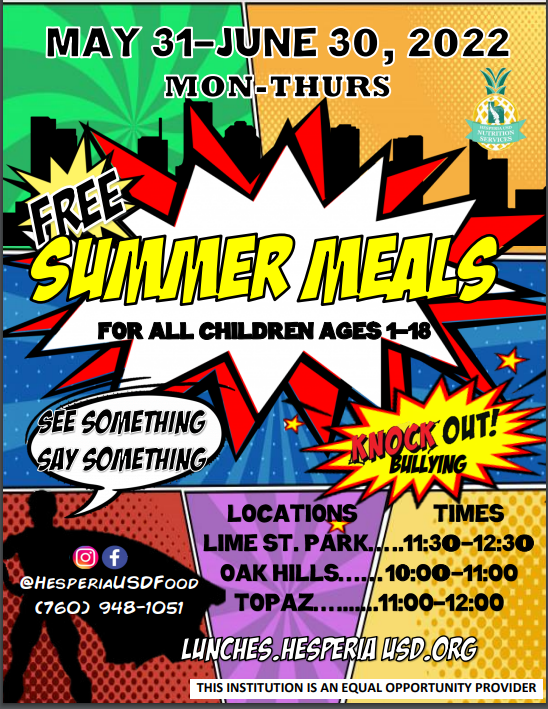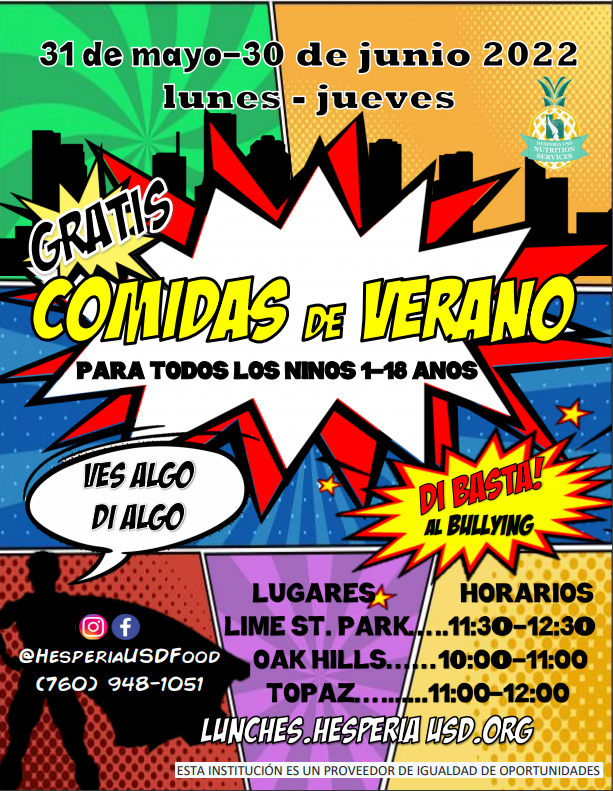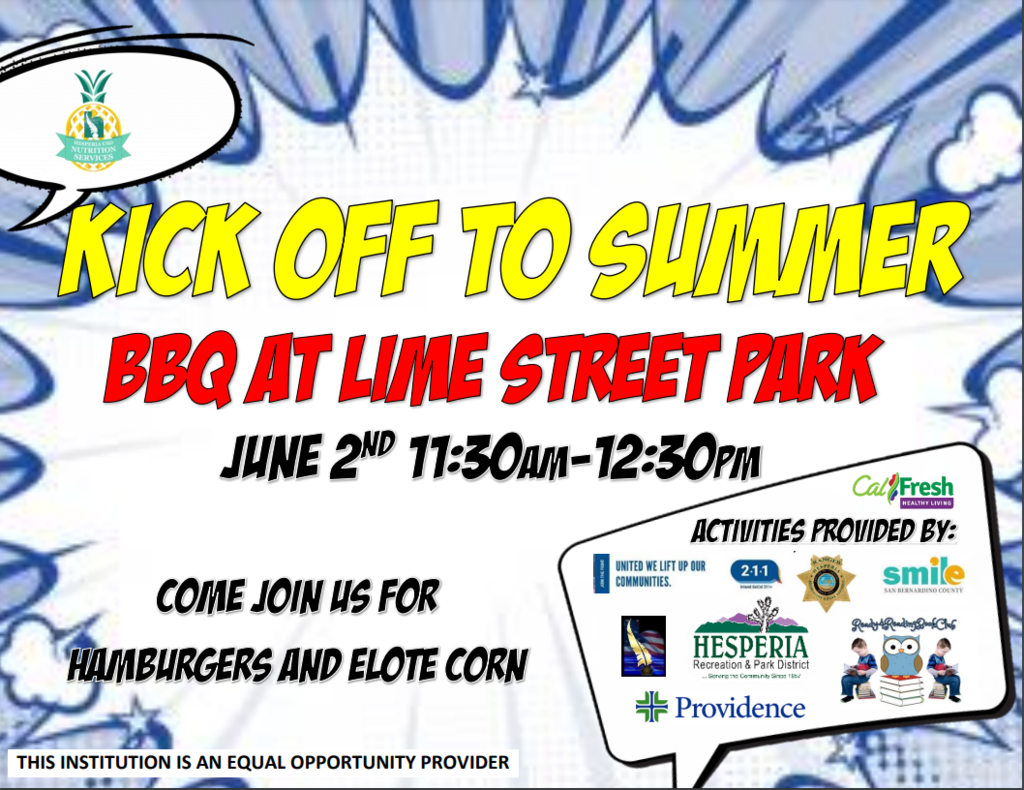 Shadow Ridge School would like to invite the Class of 2022 and their families to the Senior Awards & Memory Event. Please join us as we celebrate our Seniors --Wednesday, May 18, 2022, at noon. The event will take place at the District Office.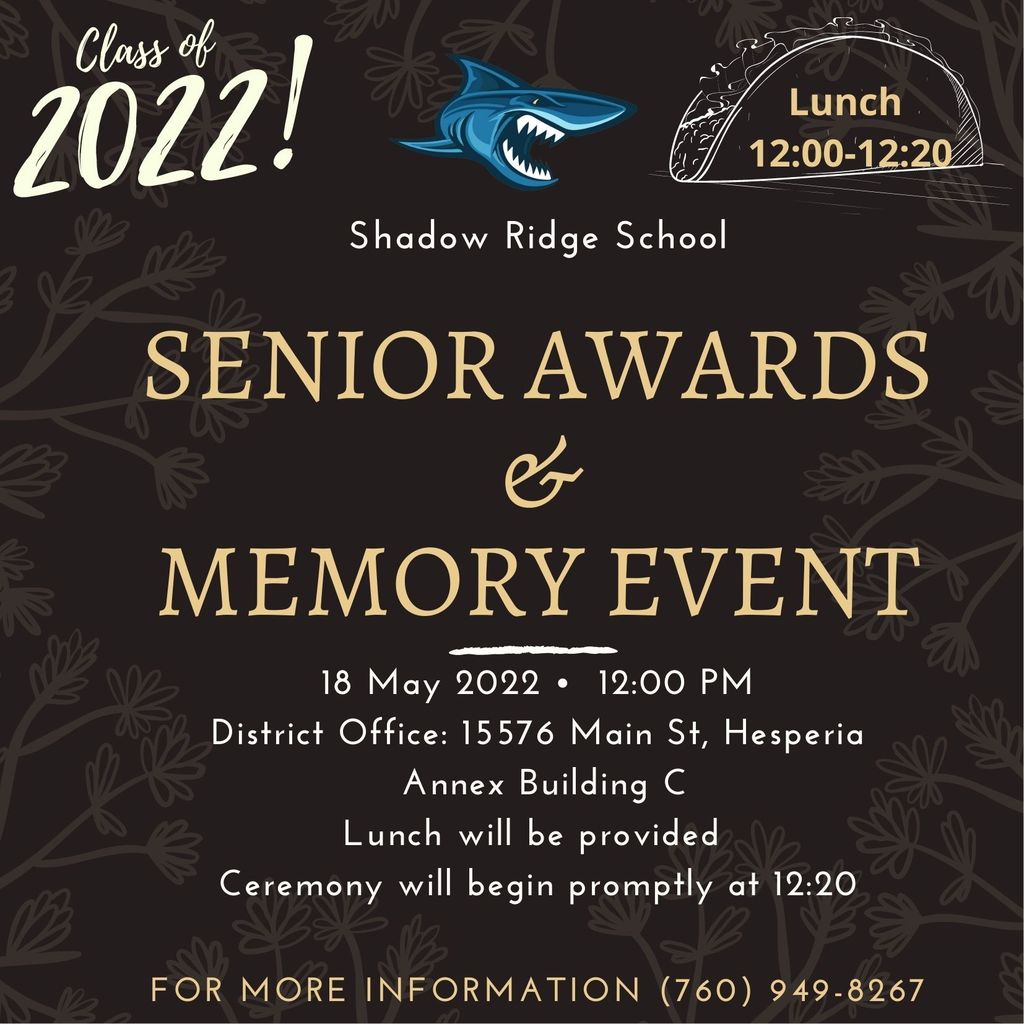 Hello Shadow Ridge Families, We are excited to pre-register your child with Shadow Ridge for the next school year. To be guaranteed a spot for the 2022-2023 school year at Shadow Ridge, we will need families to: -Bring in or come in to a 2022-2023 Master Agreement --One per student (no need to bring all 7 pages-- first page will suffice) --Both locations (Main St and Ranchero/Oxford) are open to receive and/or print the master agreements from 8:00 to 2:00 PM -UPDATE your child's existing OLR (online registration). -Priority registration will close on Friday, May 13th. Please call the office or talk to your child's homeroom teacher for more information. Looking forward to seeing you all this week!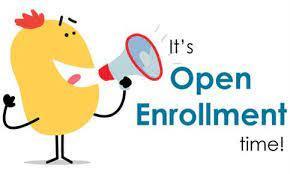 Attention families of students in grades 5, 7, and 9. Per California Ed. Code 51241 and 51242, it is mandatory that all students in grades 5, 7, and 9 participate in the Physical Fitness Test (PFT.) Tomorrow, we will be testing at the Shadow Ridge (Ranchero & Oxford Campus.) For this test you will need to make sure that you dress comfortably and wear tennis shoes. If you have any questions please ask your counselor or homeroom teacher. PFT - Wednesday, May 4, 2022 promptly at 9:00 am. Shadow Ridge (Ranchero Campus) 7280 Oxford Ave, Hesperia, CA 92345 Please meet your teachers by the Shadow Ridge office and they will be walking the students over to the athletic fields over at Ranchero Middle to complete the test. *********************************************************** Your student will need to bring/wear: Water Tennis Shoes Comfortable Clothing Sunscreen if you feel your student may need it

Graduating senior updates and reminders!! *Our Cap and Gown Distribution Event took place yesterday, but it is not too late to come by Shadow Ridge and pick up your cap and gowns and yard signs. The office is open from 7:30 am-3:30 pm Monday-Friday. *Our next event for our seniors will be our Senior Memory and Awards Event taking place on May 18, 2022 at 12:00 pm for seniors and family members. This fun day will include lunch (a taco truck will be onsite) awards presentations, and a look back on our seniors' high school experience. This event will be located at our HUSD district office annex building 15576 Main St (where board meetings take place.) We are looking forward to celebrating with you all in person! *The graduation ceremony will take place at the Oak Hills High School football stadium on May 23, 2022 at 4:30pm. There is no limit on guests so we hope to see a big turnout to celebrate our amazing seniors who have overcome so many challenges these last couple of years to make it to this momentous occasion! (There is no graduation rehearsal so please plan on being there by 4:00pm on May 23.) *All current seniors need to have Q4 work turned in to their classes by May 13th to ensure graduation in time for our ceremony. Please check with your teachers for help and clarification on specific classes. The final countdown has begun!


2022 Graduates! Seniors, please join us tomorrow for the Cap & Gown Distribution. We will take your complimentary Senior Picture and distribute yard signs. Date: Tomorrow, April 27th Location: Main Street campus Time: 10:45am - 12:00pm. If you have not paid for your Cap & Gown -- the cost is $40 -- cash only -- please bring exact change. Hope to see you all there!

Hello Shark Families, Shadow Ridge is required to prepare an annual evaluation report of our program. To create an accurate evaluation, we hope to get parents' and students' feedback. We would greatly appreciate it if you would take a minute to fill out this short feedback form: Parent Survey:
https://forms.gle/5kiEFjdxwXiJ8W579
Student Survey:
https://forms.gle/myWnv9qCGrS6aa8cA
We value your feedback and appreciate your time.

STATE TESTING REMINDER. Hello families of our middle and high school students. Next week we will be conducting mandatory state testing at both of our campuses for our 7-12 grade students. You should have received a letter in the mail explaining which tests your student is required to take. Not all grades test, so please check with your students' homeroom teachers if you are unsure. There will be no in-person tutoring, new assignments, or Zoom sessions next week, but students are highly encouraged to work on missing assignments and use the week as an opportunity to get caught up.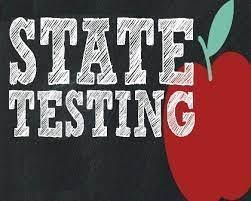 It's not too late to register for VVC classes this term being held on the satellite campus behind Hesperia High. This is a great opportunity whether you are looking to add a class this term, wanting to resume your college program, or ready to start your college journey! For more information click the link:
https://5il.co/182vo

Hello 2022 Graduates! We have had many questions regarding Cap & Gown so we wanted to send out some clarifications: You can order your Cap & Gown online at:
https://bit.ly/3vw1b0t
If you have already done so, you will be able to pick it up at our Cap & Gown Distribution Event on April 27th here at the main campus from 10:45am - 12:00pm. If you would prefer to pay cash for your cap & gown, you can do so at the Cap & Gown Distribution Event. The cost is $40 so please bring the exact payment as we will not be able to make change. At the Cap & Gown Distribution Event, Mrs. Jacobs will have a beautiful background set up and has generously offered to take pictures of you and your friends and family in your cap & gown if you would like. This is a fun event where we get to celebrate with all of our graduates as we cheer you on to your new post-graduate lives! Hope to see you all there!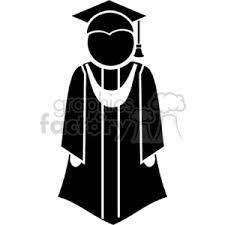 Happy Friday Shark Families. Reminder that today is a minimum day for grades 7-12 and all grades will be on Spring Break next week. We will be back to school as normal on Monday, March 28th. If you have not already done so, please fill out this survey (
https://forms.gle/CptZ166aWeePxHcD9
) so we can help your students' transition to next school year be as smooth as possible. One survey needs to be completed for each student attending Shadow Ridge. We hope you all have a restful and rewarding Spring Break with your families!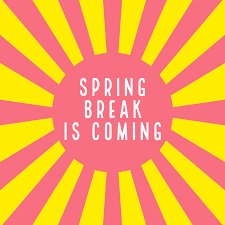 Registration is now open for the March Mario Madness esports tournament. The tournament is for grades 7-12 and is to be held on March 21-23 at Hesperia Jr. High. Registration will be open now through Monday, March 14th. Click the link here or scan the QR Code on the flyer.
https://forms.gle/EnLfKop4ThDvZfAz8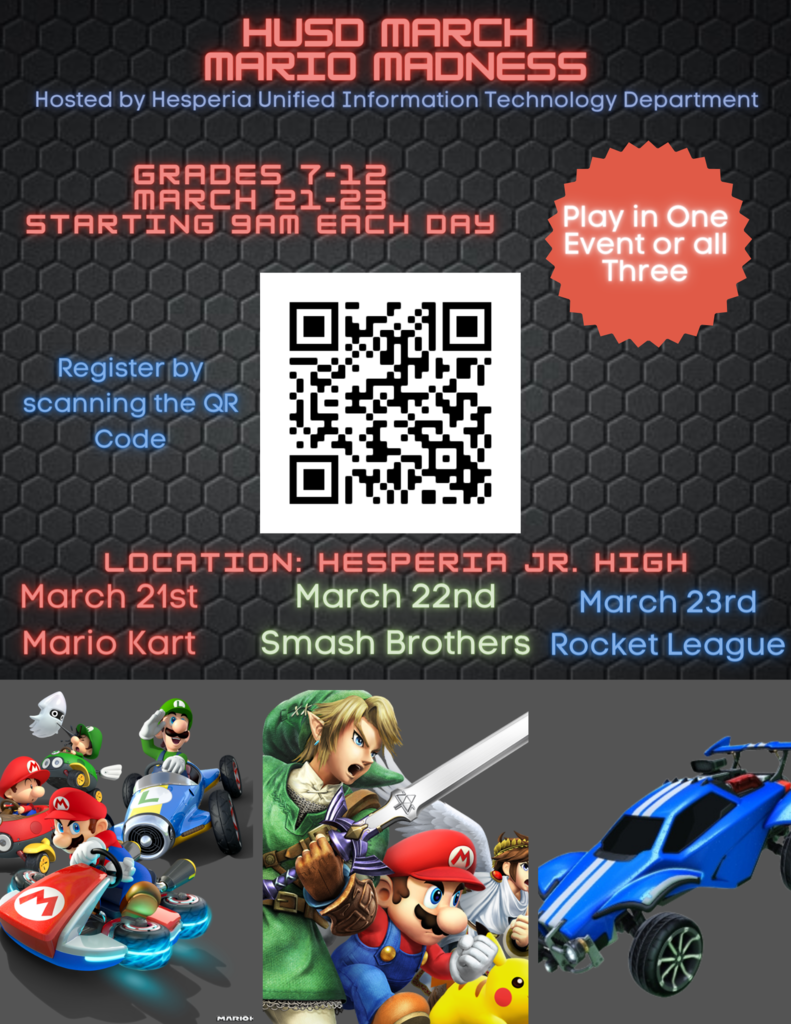 SHARK FAMILY REMINDERS...If you have not already done so, we ask that you please fill out this form so we can help your students' transition to next school year be as smooth as possible. Please fill out one form for each student you have attending Shadow Ridge School.
https://forms.gle/pBH9g8KQv3zNExop6
. SENIOR PORTRAITS!! School House Photo will be here on campus for senior portrait sessions. You MUST have an appointment booked ahead of time to participate. To book your session:
https://bit.ly/35Fhygm
More information on School House Photo:
https://bit.ly/3vuZYXe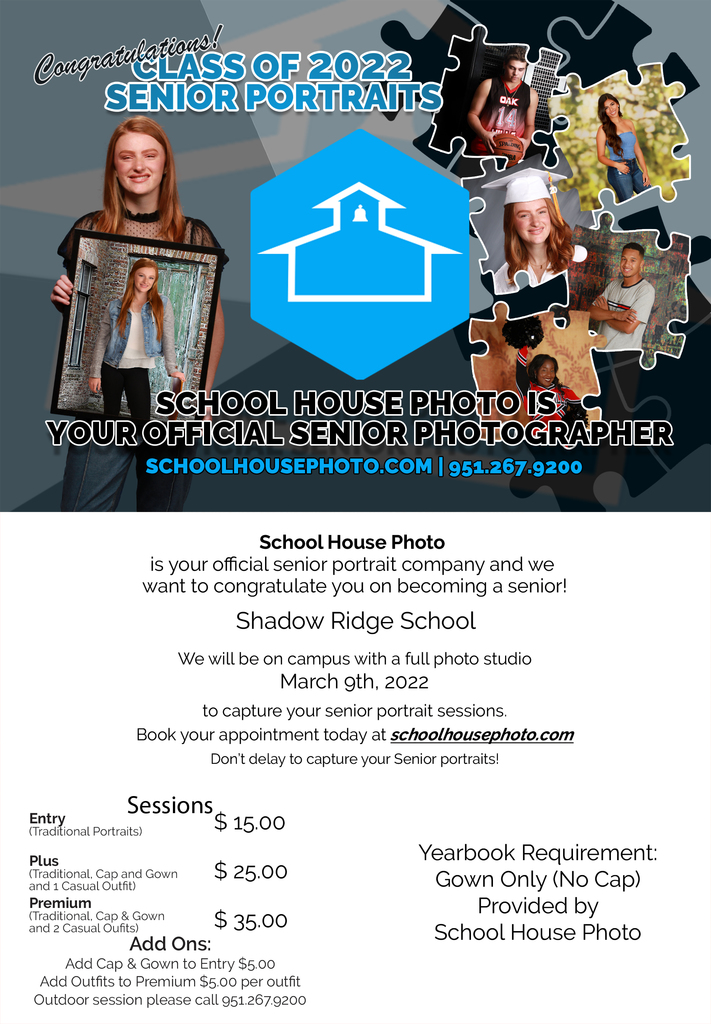 March Mario Madness Tournament Coming Soon!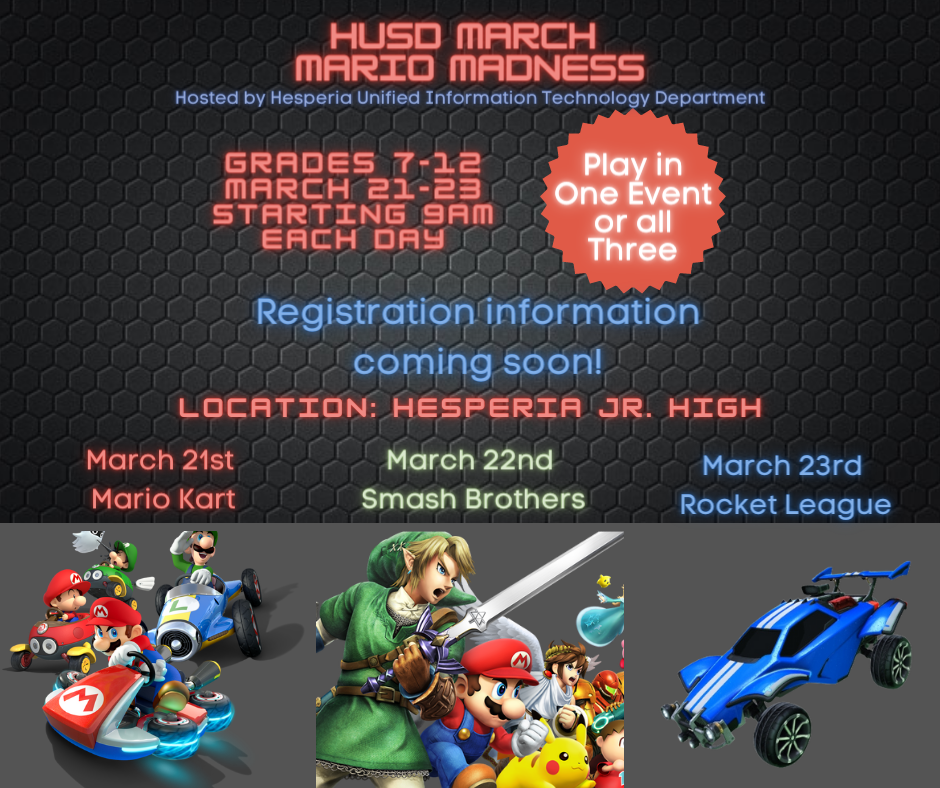 We are excited to invite our TK-3rd grade students to the Main Shadow Ridge Location for an annual Read Across America Event. Join us on Wednesday, March 2nd at 1:15 PM For more information:
https://bit.ly/3McTnqg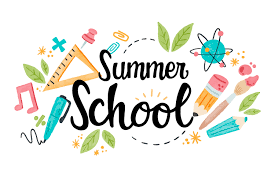 Dear Families, Due to unforeseen internet issues, some of the zoom sessions will be starting a little later for some grades. You will hear from your child's teacher with more information. The phones on the Ranchero site are also affected. If you need any assistance please call 760-949-8267 ext. 6713. We apologize for any inconvenience this may cause.